Cross border delivery to France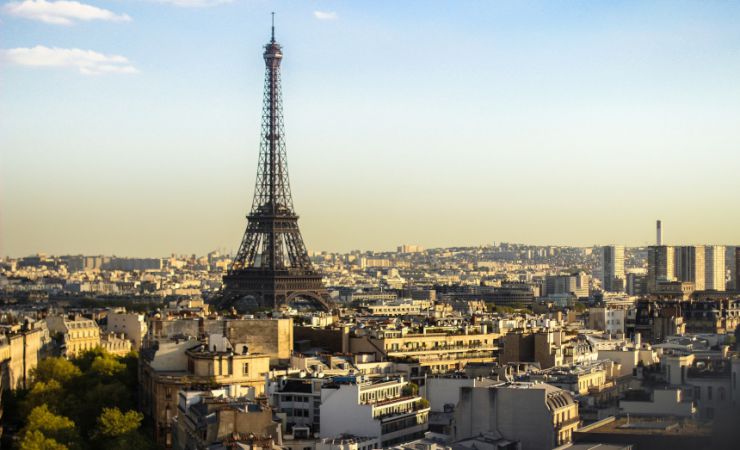 5 Tips for Successful E-commerce in France
For many European businesses, France is an attractive target country when it comes to expanding their e-commerce activities. The e-commerce sector in France is growing constantly, which makes it all the more appealing to foreign companies. According to Fevad, the French e-commerce and mail-order association, annual turnover has exceeded the 100 billion euro mark in 2019. French have spent 103.4 billion euros for products and services online, 11.6% more compared to the previous year period.
You are planning to expand your business in France? Read our 5 useful facts about local characteristics of French customers and the French e-commerce market.
1. The French really love their language
It is commonly known that French people are not very open-minded when it comes to foreign languages. Anglicism is hard to find in French marketing texts and when you find an English slogan, it will be tagged with an asterisk, adding the French translation. The reason for this is the law Toubon. It came into force in 1994 and aims to protect and to promote the French language.
Key for successful marketing campaigns in France is therefore translation and localization. The French, or more precisely the French advertisement control authority (ARPP = Autorité de régulation professionnelle de la publicité) won't pardon any language issues. English product descriptions or terms and conditions for the French market? You should better rely on the service of a proficient native speaker specializing in localization, who knows current SEO-techniques and legal boundaries for the French market. A mere translation does not meet the requirements for the French market. Puns, idioms and alliterations are current stylistic devices in French marketing wording. They can only be adapted from other languages by an experienced marketing specialist with copywriter background.
2. Sustainability gains ground in France
Even though France does not have an ecological reputation, change is in the air, also from a political point of view. A law against wasting and for the promotion of a circular economy (loi relative à la lute contre le gaspillage et à l'économie circulaire) has been adopted in January 2020 – the implementation of actions is just a matter of time.
The law determines how a circular economy could be reached by focusing more on recycling and repairing old or broken products. Manufacturers and importers have to inform their customers about the product's lifecycle, from the beginning until its disposal. Electronic products for instance have to be marked with information about possibilities to repair and the availability of replacement parts. Also the percentage of recycled or renewable materials and potentially harmful substances is going to be indicated in order to inform the customers in a transparent way. In addition, manufacturers are obliged to take back used articles when a customer buys a new one. For mail order businesses, this means they have to inform their customers during the order process about the quantities and product types, which can be swapped against the new product.
On the consumers' side we also notice a higher interest for environmental issues, even though this comes a bit later compared to other European countries. According to a study from Harris Interactive on behalf of the channels M6 and RTL, 72% of French citizens claim to pay more and more attention to environmental issues. Half of the participants indicate to care about their carbon footprint in daily life. What does this mean for your e-commerce business? Until now, CSR and facts about sustainability might have been neglected in the communication for the French market compared to other markets. There is no time to lose to implement legal changes and the green mentality in your communication strategy and your offer.
3. Use the reach of French marketplaces
Marketplaces are extremely popular in France. Besides the omnipresent international big players like Amazon or Ebay, you will find a variety of local and specialized marketplaces, covering the whole range of target groups.
Measured by the number of visitors, Cdiscount is second right after Amazon. In the beginning, the French e-commerce marketplace Cdisount specialized in CDs and DVDs. Today, its offer contains household items, electronic devices, furniture etc. The strategy of Cdisount is about strong brands and targeting price conscious customers.
Also the Fnac should no longer be a foreign term for you when entering the French e-commerce jungle. This marketplace with many stores in different cities offers primarily literature, movies and video games, but also tickets for concerts and other cultural events as well as electronic devices. Other marketplaces are Veepee (formerly ventes privées), la Redoute, especially for upmarket manufacturers and PriceMinister which is now part of Rakuten.
Marketplaces enable you to reach a large number of consumers and to benefit from their high level of recognition when you expand internationally. Furthermore, your company is not being perceived as coming from abroad at first sight. Regardless the different product ranges, target groups and vendor conditions, marketplaces also vary in pricing, logistic and legal conditions, which should be considered when choosing the right marketplace in France.
4. Consider the online buying habits of the French
Not being unmasked as a foreign business at first sight can be a challenging task of cross border trading – unless the nationality of your business is your main strategy and therefore part of your communication. If you want to be seen as a French business, you should get to know the habits of French online consumers: What services do you have to offer your customers so that they have the same comfort they are used to in their usual French online shops? How do you make a French customer happy in order to gain his loyalty? Important points to consider are payment and delivery methods.
When it comes to payment, the cheque is increasingly irrelevant. But when your target group has a certain age, you should still consider proposing this almost outdated way of paying. The n°1 payment method is the bank card: About 80% of the French pay their online purchases via bank card before receiving their shipment. Payment by bank transfer is used by a very small amount of online purchaser and concerns only 0.9% of online orders.
Shipment conditions are another bottleneck when it comes to cross border delivery to France: You can find a very well working delivery network in France; this is why French are used to a high service level. Free shipping for a certain order amount and a reliable delivery partner are crucial criteria for or against foreign e-commerce. 86% of French online buyers use door delivery and 83% the delivery in "point relais", parcel shops that collaborate with delivery services.
5. Trust in strong partners for your cross-border project
A consultant, who is aware of what you have to consider during the official sales period and the meaning of "rentrée" for your marketing campaigns, who knows your main competitors and their strategies, is invaluable for your internationalization project. Often it is only about soft factors and linguistic nuances, because they decide, whether your business is being perceived as local or foreign. This is why excellent knowledge of cultural characteristics besides organizational and logistic factors is crucial for international success. Especially during the first project stages and the first steps in France, coaching and workshops held by specialized consultants are very helpful. Later on, they can smoothly be replaced by a French speaking country manager.
Exchanging with other companies is also part of sustainable networking. A good possibility to do so is becoming member of Fevad, the largest e-commerce and mail order association in France with more than 600 members. The aim of this association is the promotion of e-commerce and the implementation of quality standards, including a comprehensive code of conduct and an e-commerce mediation service.
A fulfillment partner could be a great relief for your cross border project. Especially when you can't or do not want to fall back on the service of a marketplace, you should consider this option in order to get closer to your French customers: in addition to online orders you could offer a French speaking order and service hotline!
No matter how good you are prepared and how much external help you have, you still have to take the plunge – so go for it and take your chance! Especially the first stages of internationalization can teach you a lot – and you can benefit from this useful knowledge for the future optimization of your strategy. You will certainly encounter new challenges but also new opportunities; you will get to know another culture from a completely different perspective und last but not least, you will discover great possibilities to develop your business internationally.